Annual Awards
Marshbanks awards several trophies on an annual basis to members and their dogs. The following are pictures of the awards, the requirements for the award, and the forms you need to fill out and submit to the Awards Chair.
To see pictures of the awards and read about the requirements, click on the link in the left column or scroll down the page. To see the related form, click on the link in the right column.
Golden Dumbbell Trophy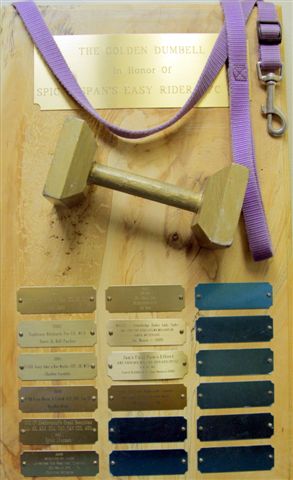 Members should fill out this form and submit it to the Awards Chair.
---
Kyrie Kids Tracking Trophy
New Title Plaques/Bars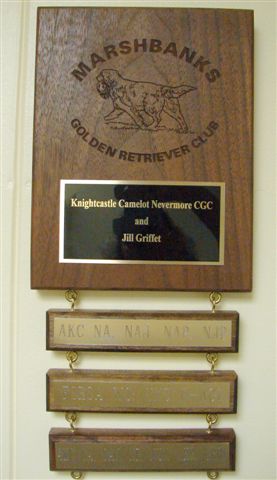 When members earn a new title with their dog(s),they should fill out this form and submit it and any payment required to the Awards Chair.
---
Riverwoods Hunting Trophy
In Memory of HRCH Riverwoods Grizz L'Bear CD, MH, WCX – "Grizz"
The Riverwoods Hunting Trophy is awarded annually to recognize the handler and Golden Retriever team that has achieved the highest point total on the basis of successful completions of Hunting Tests for Retrievers (AKC and UKC) and Working Certificates for Golden Retrievers (GRCA).
The purpose of the Riverwoods Hunting Trophy is to encourage active and continuing participation in non-competitive field events by members of the Marshbanks Golden Retriever Club of South Central Michigan ("Marshbanks"), and to acknowledge the achievements of Golden Retrievers in the field.
Criteria for the Riverwoods Hunting Trophy:
Handler shall be a full, associate or honorary member of Marshbanks in good standing during the year of the award. Handler shall have been the owner or co-owner of the dog at the time the events took place.
The dog shall be a Golden Retriever.
Hunt Tests shall be events licensed by the American Kennel Club (AKC), and by the Hunting Retriever Club of the United Kennel Club (UKC/H.R.C.).
Working Certificates and Working Certificates Excellent shall be events approved by the Golden Retrieve] Club of America (GRCA).
Trophy points shall be awarded for an individual dog on the following basis for each qualifying event during the calendar year. Working Certificate/Excellent points shall be credited for each time the dog qualifies.
Members should fill out this form and submit it to the Awards Chair.
---
Riverwoods Novice Hunting Award
Honoring the Memory of SHR St. Andrew Baron of Riverwoods CD, JH, WC – "Bear"
Spencerfield Versatility Trophy
---
Versatile Senior Award
---
Wynwood Obedience Trophy
This trophy is offered by Renee Schulte. All breeds, owned by members in good standing, are eligible for this trophy. It is awarded to the member-owned dog with the highest average from all AKC qualifying obedience scores earned for the calendar year. Scores to be earned in Novice A/B, Open A/B and/or Utility A/B.
Print off the form and fill in your information, using the (Wynwood Obedience form ). Please return your completed form to the Awards Chair.
2021   AWARDED TO MARCIA JOHNSON AND "ZEKE",  HEADS UP TSUNAMI *** MH, CDX, WCX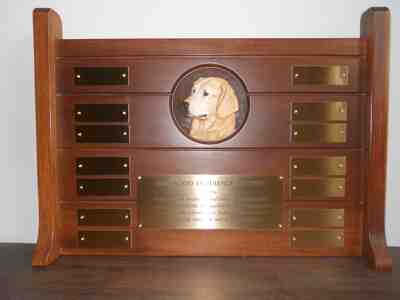 ---
Wilma's  Rally  Award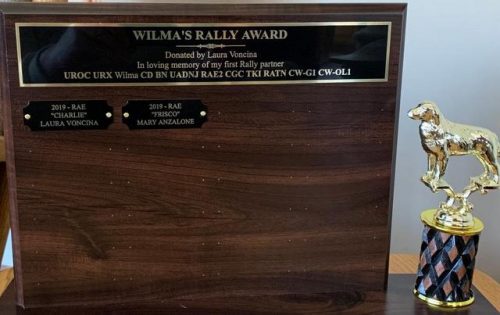 Honoring the Memory of
URX UROC Wilma CGC RAE2 BN CD TKI RATN
Wilma's Rally Award is presented annually to recognize a Handler/Dog team that has earned a high level Rally title during the calendar year. The purpose of Wilma's Rally Award is to encourage members of Marshbanks Golden Retriever Club to continue competing in Rally to earn the higher level titles, in both the
American Kennel Club (AKC), the United Kennel Club (UKC).   Please submit your completed Wilma's Rally Award form and mail to  the Awards Chair