---
NEW EVENTS LISTED FOR 2023
 CHECK UPCOMING  EVENTS ON THE EVENT CALENDAR PAGE
---
Welcome   Thank you for visiting…
Marshbanks Golden Retriever Club is a small but active club, made up of members who own not only Golden Retrievers, but also several other Retriever breeds. Our members participate in a wide variety of activities with their dogs, including conformation, field work, hunting, agility, obedience, rally, tracking, dock jumping and therapy work.
We host several AKC (American Kennel Club) and GRCA (Golden Retriever Club of America) titling events throughout the year. These include:
Club History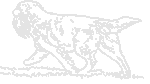 The club was organized in 1998, led by Terri Pardee, with the stated aim of encouraging and supporting the versatile Golden Retriever. Ft. Detroit Golden Retriever Club held most of their meetings north of Detroit and their specialty near Port Huron. The Marshbanks area was roughly Ann Arbor-Jackson-Battle Creek and south.
Terri and Bill Pardee, Marallyn and Ed Wight, Walt Faubion, Betty Gay, Betty Drobac, Cheryl Holloway, Jackie Abbot (Terri's mom), Marcia Schlehr, Deb Stoll, Charlene Eisenlohr, Jan Thompson, and Leslie Reichert were among the original members.
"Marshbanks" is a play on words: one, of course, pertaining to where retrievers often work. The other is a tribute to Dudley Coutts Majoribanks, first Lord Tweedmouth, originator of the breed. "Majoribanks" is actually pronounced just like "marshbanks".
The club logo was designed and drawn by Marcia Schlehr, from a photograph she took some years ago.
Morris Animal Foundation
"Morris Animal Foundation's Canine Lifetime Health Project is an online community of dog lovers willing to have their dogs participate in studies that will improve the health of dogs. By participating in the project, dog lovers further Morris Animal Foundation's efforts to support science that advances veterinary care for dogs.
The Golden Retriever Lifetime Study, first study of the Canine Lifetime Health Project, is a pioneering study focusing on identifying risk factors for development of cancer and other diseases in Golden Retrievers.
Link for more information,  www.CanineLifetimeHealth.org.